Monuments to the Immigrants
Monuments recognizing the contributions of the Isola delle Femmine immigrants can be found in Monterey, Martinez, and Pittsburg, all in California.
---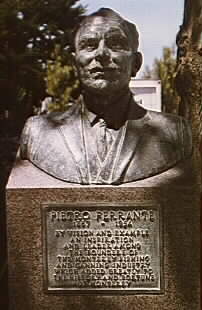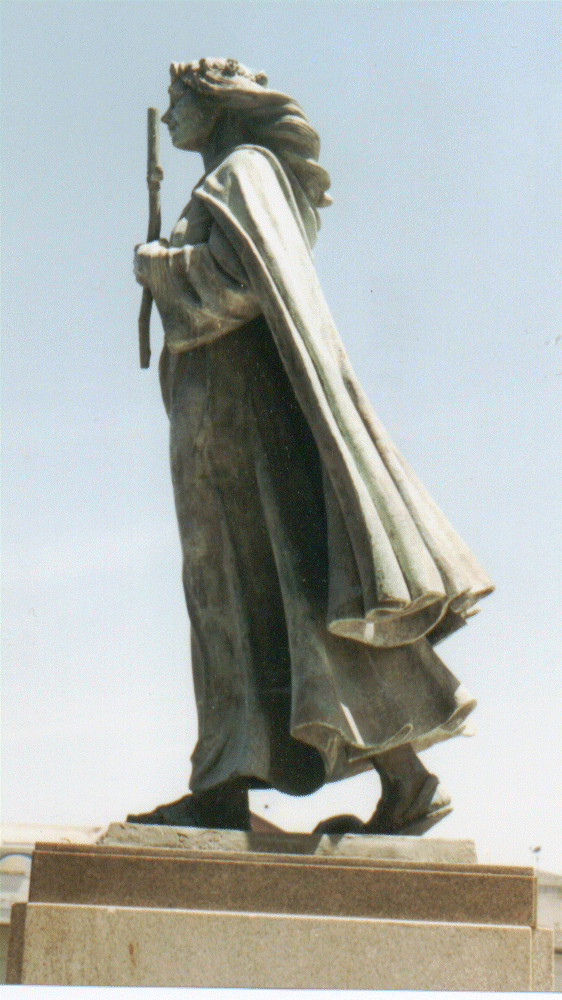 Left: Pietro (Pete) Ferranti immigrated to the U.S. in 1899. Here he is recognized as a founder of the fishing and canning industries in Monterey. The inscription reads "Pietro Ferranti, 1867-1954, by vision and example an inspiration and leader among the founders of the Monterey fishing and canning industry which added greatly to the history and fortune of Monterey." This bust is located between Fisherman's Wharf and the Heritage Harbor complex in Monterey.
Above Right: A statue of Santa Rosalia, the patron saint of Monterey's Sicilian fisherman, stands on a pedestal overlooking Monterey's Old Fisherman's Wharf. The inscription at the base of the statue reads "Santa Rosalia patron saint of the Italian fisherman in Monterey (Palermo 1132-September 4, 1166). This monument is respectfully and gratefully dedicated in memory of those courageous Sicilian fisherman whose labors and pioneering spirit, at the beginning of the 20th century, created and developed a great sardine industry and whose heritage and culture contributed significantly to the growth of this City and its surrounding areas."
Below: Buildings in the Heritage Harbor complex near Fisherman's Wharf in Monterey are named for individuals who have made a significant contribution to the community. The Giamona building, shown below, is named for Francesca Giamona, a founder of Monterey's Santa Rosalia Festival.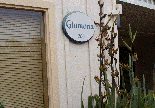 ---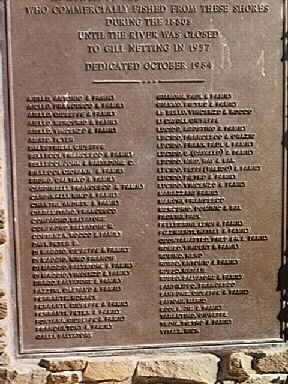 This monument is located in Martinez, California. It can be found at the water front overlooking the Sacramento River. It recognizes the original Sicilian fisherman. The names on this memorial are:
Aiello, Antonino & Family

Aiello, Francesco & Family

Aiello, Giuseppe & Family

Aiello, Mercurio & Family

Aiello, Vincenzo& Family

Amato, Peter

Balestrieri, Giuseppe

Bellecci, Francesco & Family

Bellecci, John & Salvadore C.

Bellecci, Giovanni & Family

Bruno, Gaetano & Family

Bruno, Francesco

Cardinalli, Nino & Family

Chantri, Andrew & Family

Ciaramitero, Francesco

Compagno, Salvatore

Compagno, Salvatore R.

Costanza, Rocco & Family

Davi, Peter B.

DiMaggio, Giuseppe & Family

DiMaggio, Nino & Francesco

DiMaggio, Salvatore & Family

DiMaggio, Vincenzo& Family

Drago, Salvatore & Family

Ferranti, Horace

Ferranti, Giuseppe & Family

Ferranti, Peter & Family

Fontana, Giuseppe & Family

Franchi, Tony & Family

Galli, Salvatore

Giamona, Paul & Family

Gianno, Pietro & Family

LoBello, Vincenzo & Rocco

LiCavoli, Giuseppe

Lucido, Agostino & Family

Lucido, Francesco & Orazio

Lucido, Frank Paul & Family

Lucido, G. (Gavallo) & Family

Lucido, Nino, Ray & Sal

Lucido, Peppi (Palido) & Family

Lucido, Pietro

Marazzani Family

Marchi, Francesco

Mercurio, Domenio & Sal

Pagnini, Paul

Pellegrini, Luigi & Family

Pizzimenti, Natale & Family

Quontamatteo, Fred Sr. & Family

Romeo, Vincent & Family

Rubino, Neno

Russo, Antonio & Family

Russo, Natali

Russo, Salvatore & Family

San Filippo, Francesco

Sansone, Giuseppe & Family

Savioni, Mario

Scola, Jim & Family

Tarantino, Giuseppe

Troia, Pietro & Family

Vitale, Nick
---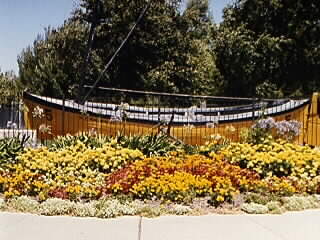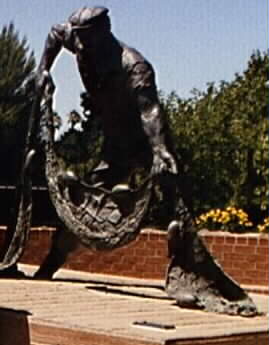 Isola delle Femmine Plaza in Pittsburg, California honors the Sicilian fisherman for their contribution to the City of Pittsburg. The park also contains a monument (not pictured) listing the names of the original fisherman. This listing appears below. Pittsburg and Isola delle Femmine are sister cities. A replica of the fisherman statue shown here can be found in a waterfront park, the Piazza de Pittsburg, in Isola delle Femmine (see Photo 1 page). The sculptor of both statues was Frank Vitale. The fisherman in the art work is a likeness of the sculptor's father.
Fishermen's Memorial, Pittsburg, California (not pictured)
The inscription on the memorial reads, "In memory of the Italian fishing pioneers who settled and developed early Pittsburg." The names on the memorial are listed below alphabetically. This is not the order in which they appear on the memorial.
| | |
| --- | --- |
| Vincenzo Adante | Vincenzo Adante |
| Antonio Aiello | Arasino Aiello |
| Erasimo Aiello | Francesco Aiello |
| Gioacchino Aiello | Giovanni Aiello |
| Giuseppe Aiello | Giuseppe Aiello |
| Giuseppe Aiello | Giuseppe Aiello |
| John Aiello | Joseph Aiello |
| Matteo Aiello | Michele Aiello |
| Orazio Aiello | Paolo Aiello |
| Paul Aiello | Pietro Aiello |
| Rosario Aiello | Salvatore Aiello |
| Tuni Aiello | Vincenzo Aiello |
| Vincenzo Aiello | Orazio Abono |
| Giuseppe Allioti | Giovanni Anello |
| Giuseppe Archedono | Salvatore Arno |
| Tredo Ballante | Antonio Bellecci |
| Ciro Bellecci | Giuseppe Bellecci |
| Marco Bellecci | Orazio Bellecci |
| Orazio Bellecci | Paolo Bellecc |
| Pete Bellecci | Salvatore Bellecci |
| Stefano Bellecci | Steve Bellecc |
| Vincenzo Belleci | Natale Bologna |
| Placid Bono | Antonino Bruno |
| Antonio Bruno | B.C. Bruno |
| Benito Bruno | Benito Bruno |
| Cosimo Bruno | Erasimo Bruno |
| Francesco Bruno | Frank Bruno |
| Giuseppe Bruno | Giuseppe Bruno |
| Giuseppe S. Bruno | Nino Bruno |
| Pepino Bruno | Pietro Bruno |
| Salvatore Bruno | Shedo Bruno |
| Shedo Bruno | Tredo Bruno |
| Tredo Bruno | Vincenzo Bruno |
| Vincenzo Bruno | Bonaventura Calvaliere |
| Andrew Cardinale | A.W. Cardinale |
| Benito Cardinale | George Cardinale |
| Girolamo Cardinale | Giuseppe Cardinale |
| Pietro Cardinale | Rosario Cardinale |
| Salvatore Cardinale | Shedo Cardinale |
| Stefano Cardinale | Vincenzo Cardinale |
| Vincenzo Cardinale | Vincenzo Cardinale |
| Erasimo Cataldo | Giuseppe Catalone |
| Nick Catania | Vincenzo Catania |
| Dave Cato | Pasquale Ciaramitero |
| Santo Comina | Gaetano Compagno |
| Nino Compagno | Nito Compagno |
| Sal Compagno | Ratzi Coniglio |
| Paolo Costa | Frank Costanza |
| Gaetano Costanza | Joseph Costanza |
| Nino Costanza | Nino Costanza |
| Rocco Costanza | Andrew Crivello |
| Gaetano Cutino | Paolo Cutino |
| A.E. Davi | A.G. Davi |
| Anthony Davi | Antonio Davi |
| Antonio Davi | Antonio Davi |
| Antonio Davi | Antonio B .Davi |
| Barney Davi | Bartolo Davi |
| Benito Davi | Erasimo Davi |
| Erasimo Davi | Francesco Davi |
| Giuseppe Davi | Giuseppe Davi |
| James Davi | Joe Davi |
| Nino Davi | Nino Davi |
| Orazio Davi | Salvatore Davi |
| Tredo Davi | O.V. Davi |
| Giuseppe DiFlori | Chico DiMaggio |
| Gaetano DiMaggio | Gaetano DiMaggio |
| Giuseppe DiMaggio | Giuseppe DiMaggio |
| Joe DiMaggio | Nino DiMaggio |
| Ratzi DiMaggio | Salvatore DiMaggio |
| Victor DiMaggio | Vincent DiMaggio |
| Vincenzo DiMaggio | Ciro DiMercurio |
| Giovanni DiMercurio | Matteo DiMercurio |
| Pepe DiMercurio | Sal DiMercurio |
| Salvatore DiMercurio | Shedo DiMercurio |
| Tonto DiMercurio | Joseph DeRosa |
| Giuseppe DiStefano | Joe DiStefano |
| Frank Paul Enea | Rocco Enea |
| Sebastian Enea | Silvester Enea |
| Antonio Ferranti | Chico Ferranti |
| Francesco Ferranti | Nino Ferranti |
| Pete Ferranti | Ratzi Ferranti |
| Vincenzo Flores | Paul Flores |
| Gaetano Galla | Domenic Gentile |
| Alexander Grillo | Andrew Grillo |
| Carl Grillo | Joe Grillo |
| Antonio Lombardo | Frank Lombardo |
| Frank Lombardo | Frank Lombardo |
| Joe "Pepe" Lombardo | Salvatore Lombardo |
| Salvatore Lombardo | Rosario Luccadello |
| Antonino Lucido | Erasimo Lucido |
| Francesco Lucido | Giovanni Lucido |
| Giuseppe Lucido | Giuseppe Lucido |
| Gus Lucido | Nino Lucido |
| Nino Lucido | Orazio Lucido |
| Paolo Lucido | Pietro Lucido |
| Pietro Lucido | Pietro Lucido |
| Rocco Lucido | Salvatore Lucido |
| Vincent Lucido | Vincenzo Lucido |
| Vincenzo Lucido | Vincenzo Lucido |
| Vincenzo Malenise | Andrew Mercurio |
| Antonio Mercurio | Frank Mercurio |
| Giuseppe Mercurio | Michael Mercurio |
| Pepe Mercurio | Pietro Mercurio |
| Salvatore Mercurio | Tredo Mercurio |
| Rosario Moreno | Sebastino Napa |
| Lawrence Orlando | Mercurio Orlando |
| Salvatore Partinico | Fillipo Premeso |
| Giuseppe Rappa | Topny Ricano |
| Salvatore Ricardo | Vincenzo Riccobono |
| Genaro Rizzo | Pietro Rizzo |
| Horace Romeo | Joe Romeo |
| Nino Romeo | Sal Romeo |
| Sal Rubino | Antonio Russo |
| Antonio Russo | Antonio Russo |
| Antonio Russo | Antonio Russo |
| Antonio Russo | Frank Russo |
| Gaetano Russo | Giuseppe Russo |
| Leonardo Russo | Nino Russo |
| Orazio Russo | Pepino Russo |
| Salvatore Russo | Salvatore Russo |
| Salvatore Russo | Stefano Russo |
| Tredo Russo | Vincenzo Russov |
| Gaetano Scola | Erasimo Siino |
| Frank Siino | G.E. Siino |
| Pietro Siino | Domenic Spinalli |
| Salvatore Taormina | Erasimo Terezza |
| Francisco Terezza | Giuseppe Terezza |
| Antonio Troia | Antonio Troia |
| Joe Troia | Alfred Viscuso |
| Gaetano Viscuso | John Viscuso |
| Pepino Viscuso | Ignazio Canepa |